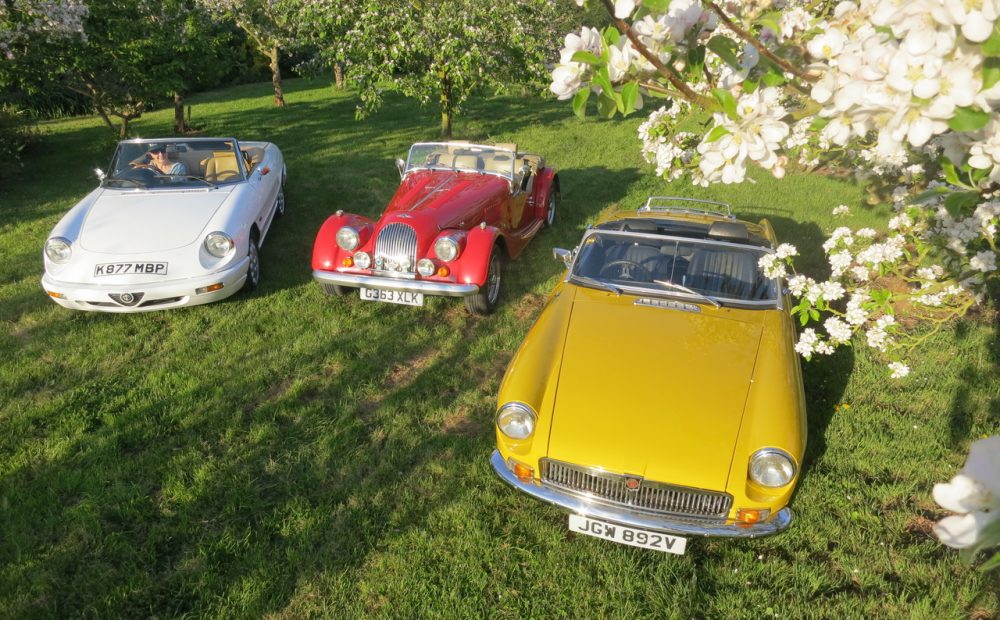 Classic Drive, Dine & Stay at Verzon House
Treat loved ones or yourself, to a grand day out behind the wheel of an iconic classic car. Experience some real old-fashioned motoring, as you explore the stunning scenery of Herefordshire and The Wye Valley surrounding Verzon House. Also within easy reach, are The Malvern Hills, Shropshire, The Welsh Marches and the Cotswolds.
Attending a local event, a wedding or just fancy a day out? Enjoy our hospitality during your stay at Verzon House and arrive at your event in style, to make your day even more memorable.
SUMMER SAVINGS:
Purchase during June, and take your experience before August 31st and save 20% off our daytime Dine & Drive Experience. Upgrade to overnight to suit.
Your Classic Drive, Dine & Stay Package Includes:
Classic Drive
Arrival welcome at Verzon House
Introductory briefing from Orchard Classic Car Hire
A day driving one of their classic cars – MGB, Alfa Romeo Spider or Morgan
Driving experience either on day of arrival or after your luxury overnight stay
Dine
Relax in the evening and enjoy a 3 course A La Carte dinner in our restaurant with views over-looking the Malvern Hills.
Stay
One night stay in a luxurious double room + hearty Herefordshire breakfast.
Fully inclusive package: £420 per couple. Staying Monday, Tuesday or Wednesday night.
Also now available Thursdays, Fridays and Saturdays. Contact us for availability and prices.
Telephone us on 01531 670381 to arrange, or send us your preferred dates here and we will ring you back at a convenient time to discuss your booking.
NOTE: This is an exclusive package from The Verzon House in partnership with Orchard Classic Car Hire Limited and is subject to availability from March to October (not available November to February). Terms and Conditions apply. Drivers must hold a full U.K. driving licence valid for manual geared cars, be between 30 and 78 years old, and meet Orchard Classic Car Hire's insurance underwriting criteria. All driving licences and secondary identification will be subject to verification, and a security deposit will be required by pre- authorisation of your credit or debit card immediately before hire commences. Please read the Orchard Classic Car Hire.  Full Terms and Conditions here.
"Bianco Fredo" Alfa Romeo Spider
"Bianco Fredo" Alfa Romeo Spider
Classic rear-wheel drive Italian sportscar
Final evolution of Pininfarina's original design
Useful sized boot – ideal for a weekend away or longer
Wind deflector to keep you cosy!
Easy to drive – lightweight controls and power steering
2 litre fuel-injected engine and 5 speed gearbox
With her clean 1960s inspired lines (remember Dustin Hoffman driving an early one in the Graduate?) the very stylish Alfa Romeo Spider just oozes Italian charm. She invites you to enjoy the open road and immerse yourself in the sights, sounds and scents of blossom, birds and big Herefordshire skies. The perfect companion for a day-trip, a weekend or even a longer tour, the Spider has a generous and secure boot for your luggage. Her manually operated hood is delightfully simple to raise or lower when you need to, but there's no doubt in our mind that you'll prefer the top-down option!
Morgan Plus 4
The Quintessential British Sports Car
Strictly snug 2 seater
Lusty 2 litre fuel-injected engine – keeps up easily in modern traffic
Hand-made by craftsmen in nearby Malvern, Worcestershire
Easy-up speed-fit hood – if the weather is not so obliging
A uniquely engaging driving experience!
Morgan Motor Company is an iconic name in the British car industry that still builds around 850 brand new cars a year at their Malvern factory, just 13 miles from us here at Verzon House.
With its lovingly hand-built bodywork laid over an ash-wood frame and separate steel chassis, the traditional Morgan design has remained largely unchanged for decades. Beneath its long and louvred bonnet though, a modern 2 litre fuel-injected engine gives this lightweight vehicle plenty of lively performance for you to enjoy. Storage space is minimal (a shelf behind the seats + small glovebox) so you'll need to travel light!
Feel the wind in your hair behind the wheel and dress for the weather!
MGB Roadster
Easy little car to drive
Spacious cockpit
Useful boot and luggage rack – good for weekends
1800cc engine with twin carburettors
4 speed manual with overdrive for relaxed cruising
"Your mother wouldn't like it" said the adverts for the trendy MGB roadster back in the day. It was however, the go-to affordable British sports car of the sixties and seventies. Many have rotted away, but our pretty Inca Yellow MG, was fortunate in being rustproofed from new.
MG made over half a million of these very popular little roadsters over the 18 years from 1962 to 1980. A practical car, the MGB has a reasonably sized boot and is very easy to drive. Flick the little overdrive switch on the higher gears to relax the engine revs and enjoy improved fuel economy.
In the bar we let the spirits do the talking. Having such an amazing relationship with a product like Chase, w e'd be a fool not to make the most of it. Herbs, spices, seasonal fruits, our cocktails follow the seasons.
READ MORE
A relaxing escape in a rural location. All rooms to include breakfast, 100% Egyptian cotton bed sheets, flat screen TV, alarm clock radio, mini bar, coffee and tea making facilities. Most bathrooms have big bath tubs, separate rainforest showers with luxury soaps & towels.
READ MORE